Dear Brothers and Sisters in Christ,
I want to start by letting you know a little bit of my experience during these seven weeks without public mass.
During this time, we have been experiencing a roller coaster of emotions – the anxiety of an unknown future, sadness at the sight of an empty church, frustration for so much dependence on technology and the hiccups that come along with it, anger as people would die alone in their hospital rooms, fear of what the devil can do to so many people who do not receive the strength of the Word and the Sacraments, joy at the realization that most of you consider God an essential part of their lives, hope at seeing the youth of our parish getting together virtually and the strong desire to come back to Church.
It has been very hard to look at the uncertain future since no one would have had imagined the incredible impact and long-lasting effects this powerful virus would have. The role of a pastor is definitely something that exceeds my capability, especially in these times, but I can say the Lord has helped me and consoled me above all through your support and your prayers. Some offered their help for us to continue our ministries (praying for the sick, online Mass support, virtual religious education, food pantry, drive-in Mass, etc.) in ways that are heroic. It is an honor and a blessing for me to be considered a part of your family.
Back in March, when the public Masses were suspended, we were all in shock and disbelief at what had just happened. For the first time in our lives, we were not allowed to go to Mass. I did not know what to do, but I was convinced we cannot take the Lord completely away from everyone. We decided to leave the Blessed Sacrament exposed the following Sunday and we began using Signup Genius to control the number of people in the Church at any given time. Then we began live streaming our Masses, after some of you suggested we should. We then received direction from the Archbishop that we could still have some people with us during Mass to help us live stream it and even someone to sing. Since then, I have been asking for the help of lectors and musicians to make the online Mass experience something more enjoyable. But I could not invite everyone to come. Lastly, in conversations with town officials, who agreed on the importance of the spiritual needs of our communities, we were able to gather again as a Church in our parking lot. Even though most of you were not allowed to leave your cars, you cannot imagine how much joy I felt to see your faces again after such a long time.
Now, after a very long period of spiritual fasting, the Lord has opened a window of grace so that those who would like to receive Him may have the opportunity to do so. The Archbishop has announced Masses are now opened to the public, albeit in limited numbers. With the Archbishop's decree, in effect Saturday, May 9, now it is possible for some to participate actively in Mass.
Our goal is to provide a safe way to receive the Lord while preventing the virus from spreading, so let me give you some important information:
Only ten people are allowed inside the Church, and they are to practice safe social distancing. A family household counts as one unit. (Servers and musicians do not count, but they are to refrain from interaction with the rest of the congregants). 4 out of the 10 units will be reserved for lectors (2) and Eucharistic ministers (2).
6 spots for family units will be opened for parishioners who would like to participate inside the temple area. To reserve a spot they will need to reserve a spot online (through Signup Genius) or call the office.
If the spots are filled up for one Mass, remember that any Mass, regardless of the day, is a good opportunity to hear the Word of God and receive the Sacrament of the Eucharist.
In addition, we will accommodate individual families to use certain rooms within the parish, in ways that would avoid interactions from each other. More information pertaining to each parish will come soon through Flocknote.
By signing up for Flocknote, you will start receiving texts/emails from us. If you still have not signed up for Flocknote, now is the time to do so, since the majority of our communications to you come through that venue.
Please do not feel pushed to come. If you do not feel comfortable coming, because you or someone you care about might be at risk, remember that the Sunday obligation to attend mass is still lifted. We are only providing an opportunity for those who can and want to receive the Sacraments. If you are impeded from that, try to find other ways to make your Sunday holy, like watching Mass.
If you feel sick, PLEASE STAY HOME. Charity demands that we take care of others even at the expense of our own needs.
We will continue to provide for live streaming options, on Facebook and YouTube, for those who would rather stay at home.
Sadly, we cannot see the future, and we cannot tell you when things will go back to some sort of normal. That is why all of these measures, including the schedule that is below, are subject to possible changes in the future.
With respect to times, starting Saturday, May 9, the schedule per each parish will be as follows: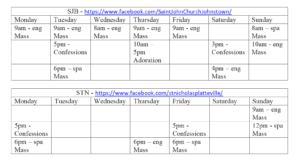 May the peace of Christ the Good Shepherd fill your life,
With love, APB