In our current time of crisis, our Church, world, and our country need faith in God and the protection and intercession of Mary. And so, beginning on Saturday, August 15, Archbishop Samuel J. Aquila is launching a Rosary Crusade to ask Mary to urgently bring our needs to Jesus.
Read more here: https://denvercatholic.org/in-this-time-of-need-let-us-turn-to-the-power-of-the-rosary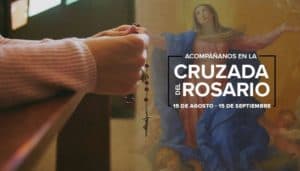 En este tiempo de crisis nuestra Iglesia y país necesitan fe en Dios y la protección e intercesión de nuestra Madre santa. Por eso, a partir del 15 de agosto lanzaré una Cruzada del Rosario para pedirle a María que lleve nuestras necesidades a Jesús urgentemente.
Leer Más: https://elpueblocatolico.org/en-estos-tiempos-de-necesidad-los-llamo-a-rezar-el-rosario